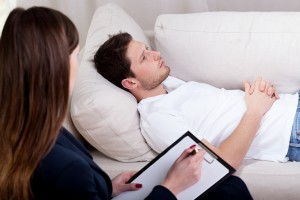 Hypnotherapy is the process of using hypnosis in combination with additional therapeutic processes to help a client deal with repressed memories, past traumas and subconscious beliefs. It takes a skilled hypnotherapist to uncover and interpret the subconscious mind accurately. Few people can perform these techniques using hypnosis with any kind of true skill without hypnotherapy training. That's where a hypnotherapy certification course comes into the picture.
A hypnotherapy course trains the student to use hypnotism properly in their practices. There are different types of hypnotherapy and a good certification course will teach more than one. Becoming properly trained is a vital first step for a therapist who wants to make use of hypnosis; they can't just start waving a watch in a client's face and expect to see results! However, not everyone who is certified as a hypnotherapist has attended one of these courses.
On a side note, although the swinging watch referenced above is a common representation of hypnosis in movies, it is rather dated in the modern practice of hypnosis. Gone are the days of telling the client to "watch the watch", though this is an example of the types of things people consider to be one of the common misconceptions about hypnosis people have when they decide to contact a hypnotist for a hypnosis session.
Different states and countries have varying definitions of what it means to be "certified" as a hypnotherapist. There is no one specific course a professional must attend to become a hypnotherapist. In many states, someone can practice as a hypnotherapist without any formal training at all. In others, only the word "therapist" is regulated, meaning the person must be certified as a mental health professional, but there is nothing controlling their training as a hypnotist. There are no legal or formal requirements, training, or certifications necessary to advertise as a hypnotist or practice hypnosis.
In the United States, one authority on certifications in hypnotherapy is the International Association of Counselors and Therapists (IACT). In order to qualify as certified on their list, a therapist must attend a hypnotherapy training course taught by one of their Certified Master Trainers or provide documentation of training elsewhere that meets the requirements for certification within IACT.
Certification classes are available in IACT schools around the world as well as at their annual hypnotherapy conference in Daytona Beach, Florida. The current requirements include 220 hours of hypnotherapy training and at least 110 of those hours are required to  be in the classroom. Being certified by the IACT means gaining recognition as a hypnotherapist within the profession, from the public, and from insurance companies.
There is also an organization known as the American Council of Hypnotist Examiners (ACHE) which is a large hypnotherapy organization for professional hypnotherapists who use hypnosis in clinical practice. Like the IACT,  ACHE provides training, workshops, and certifications to these professionals and also sponsors an annual hypnotherapy conference.
Organizations and schools that train certified hypnotherapists generally share a common goal: to increase the perceived and actual validity of the profession. Certifications give the public confidence in selecting a hypnotherapist, that they are paying money to an actual trained therapist and not just someone off the street who claims to know hypnosis. It also helps the practitioners to know that they are using the technique correctly and safely to help their clients, not harm them.
Hypnotherapy certification is not as straightforward as some other types of certification. There is no central source for these certifications, nor is there any set type or amount of training necessary to become a certified hypnotherapist. Each organization determines the requirements for their certifications, and some organizations, such as ACHE, offer different levels of certification depending on the total number of classroom hours of training. However, getting some kind of professional certification benefits a hypnotherapist. The hypnotherapist gets additional training and the knowledge that they are treating their clients to the best of their ability, and the client gets the peace of mind that they've hired an actual professional therapist.